"I do remember the swing of your step
The life of the party, you're showing off again
And I roll my eyes and then
You pull me in
I'm not much for dancing
But for you I did

Because I love your handshake, meeting my father
I love how you walk with your hands in your pockets
How you kissed me when I was in the middle of saying something
There's not a day I don't miss those rude interruptions

And I'll go sit on the floor
Wearing your clothes
All that I know is
I don't know how to be something you miss
Never thought we'd have a last kiss
Never imagined we'd end like this
Your name, forever the name on my lips"
Taylor Swift - Last Kiss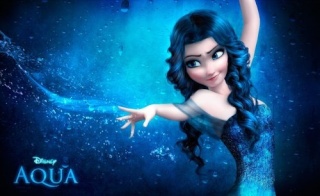 Full name:
Aquarius Shay Hills
Blood:
Half-breed. Half mermaid.
Birthday:
August 4
Personality:
Aqua grew up living on hope, but not always optimism. It was never sure if she would get accepted to a wizarding school. She was- very little to her face but often behind her back- criticized for not be the pure mermaids like everyone else, though she
was
the head's daughter.
She loved attention but never asked for it, had talent but never flaunted it, and smiled but never expected it back. She was and always will be loyal, dedicated, and trustworthy.
She also has a wild hatred for hospitals.
Favorite food:
Caeser salad (neeeeerd)
Favorite color(s):
Orange and blue
Favorite outfit:
Prized possession:
Anklet
made and given to her by her mother.
Fears:
Loss of loved ones and things
Boggart:
Patronus:
Kitten
Pet peeves/dislikes:
Hospitals, being in situations where she is unable to express herself, people who
obliviate heR FREAKING BOYFRIEND
Love life:
HA. HA HA. don't talk to me
Relationships:
-Eeli Hills:
Her mother, who was killed in her sixth year. They loved each other very much, but never quite had the time to spend.
-Aiden Hills:
Her father, obliviated in her sixth year. Was rather selfish, though coming off as kind. Wildly intelligent, a Ravenclaw at Hogwarts. However, he married Eeli out of vain.
-Addison Lionheart/Klien:
Her best friend, since forever, and for forever. They teamed up taking the house cup together, best Sterkeiders friends. She was devastated and torn apart when she graduated aside many of Aqua's other friends, and she grew closer to Bennett Varela over this.
-Jason Klien:
That one guy who's always there. And is two feet+ taller than her. She blames him for the endless amount of Kliens. She's got a right to blame him, though, right?
-Esther Klien:
God daughter. (✿◠‿◠)*:・゚✧ She's always going to look out for her. Her little Sterkeiders prodigy, and she definitely ships her and her favorite little boy ((Shane)).
-Alexander Klien:
Little swagglet bro
-Bennett Varela:
Love of her life. No matter what he thinks of her. The two have been through too much together for her to ever let go, even if he does. She wore her trust on her sleeve for him, turning to him when she had no one else.
-Sabrina Relly and Haylen Firestar:
Dem Sterkeiders girls who enrolled as she was packing her bags to get up and go. They were never very close, and they didn't hear it from her, but she thinks Bennett's just slightly possibly maybe a little stupid.
And because this is MY Main Account, this is my ValtorShips list:
Alexander/Rosie
Jaxon/Darcy
Shane/Esther
Bennett/Ayana (A little)
Bennett/Aqua aka drown me pls
Autumn/Bennett
Addi/Bennett
Jason/Addi
Lili/Kat
Kat/Johnnie
Rigel/May maybe
Lirin/Valerie <33
Kat/Murderer Guy (Yes I'm putting this on the list hush)
Shane/Theresa
Can you anti-ship something?
'Cause I anti-ship Esther/Austin.
Aqua!Ariel
(Thanks to Iso):
"She wore it for him" -Iso
Rhiannon Linden, da bae.



[19:21:10] Rhiannon Linden : SO SCANDALOUS
[19:07:51] Rhiannon Linden : *whispers sensually*
[19:07:57] Rhiannon Linden : tablecloth
[19:00:29] Rhiannon Linden : Man I don't want a mermaid tail I was a big centaur bottom so I can walk around and crush my enemies with my giant centaur booty
[19:33:57] Rhiannon Linden : I AM ALADDONE
[19:56:55] Rhiannon Linden : DO NOT FONDLE THE CORPSES
[20:22:25] Rhiannon Linden : *teresa breathing heavily in the background at the mention of shane*
[20:24:47] Rhiannon Linden : LIKE IT'S NIGHTTIME AND SHE LIGHTS LIKE SEVENTEEN CANDLES AND HAS THIS BIG CABINET SHE OPENS AND IT'S JUST ROSE PETALS AND PICTURES OF SHANE AND THEN A VOODOO DOLL
[20:24:55] Rhiannon Linden : DNA SAMPLES
[20:26:01] Rhiannon Linden : *teresa breathes extremely heavily* "ehe..ehehehe..hhehehe..ehehe... shane... oh shane.... wE'LL BE TOGETHER FOREVER SHANEy!1!!1!!!!!!"
[20:30:10] Rhiannon Linden : WHAT IS WITH YOU AND GENITALS TODAY
[20:33:35] Rhiannon Linden : "hey teresa what are you having for lunch" "shanewiches" "te-" "sANDWICHESANSSSsAndWicheSs!!!!1!!"
[20:39:14] Rhiannon Linden : what if like shane is by the lake and teresa's in the water at eye-level just staring at him
[20:39:41] Millie Relly : teresa: pls strip pls strip pls strip
[20:40:08] Rhiannon Linden : *teresa prays for a sexy swimming scene*
[20:54:41] Rhiannon Linden : "sHANE DID YOU HAVE SEXUAL RELATIONS WITH A KLIEN" "HOW DOES IT FEEL TO KNOW THAT TEEN GIRLS HAVE DEDICATED A SHRINE TO YOUR EXISTENCE" "HAVE YOU EVER BEEN FONDLED"
[20:57:42] Rhiannon Linden : "have you accepted shane varela as your personal savior"
[21:51:03] Rhiannon Linden : LIKE MY FART
[21:51:05] Rhiannon Linden : SAID VARELA
[21:51:16] Rhiannon Linden : vARELA CAME OUT OF MY BUTT
[21:51:55] Millie Relly : THAT SOUNDS WRONG
[21:52:09] Rhiannon Linden : i think you mean right
[21:53:42] Rhiannon Linden : SHANAL
[21:58:31] Rhiannon Linden : *shane does the bubble blowing technique from spongebob* bring it aAAARRROOOUNNNND valtor
[21:58:47] Rhiannon Linden : ~~the more you know~~
[23:21:25] Rhiannon Linden : aqua hills has got it going on
[23:21:42] Rhiannon Linden : aqua hills came outside with just a seashell bra on




Mills n thrills



[19:57:03] Millie Relly : IF I HAVE TO F*CK A GHOST SO BE IT
[20:34:07] Millie Relly : Esther: You know it's crazy?
[20:34:17] Millie Relly : Teresa: What?
[20:34:28] Millie Relly : Esther: We finish each other's-
[20:34:38] Rhiannon Linden : sHANEWICHES
[20:36:12] Millie Relly : LET SHANE GOOOO LET HIM GOOO YOU CAN'T KEEP HIM IN YOUR BASEMENT ANYMOREEE
[21:01:24] Millie Relly : YOU WANNA BE A SHANE HUNTING RANGER, YOU DON'T WANT TO HAVE SHANE GET RAPED BY STRANGERS

[22:02:18] Millie Relly : V IS FOR VAGINA'S SHANE WILL BE CORRUPTING! A IS shANALLLLLL! R IS FOR RESURRECTING SHANE'S DEAD CORPUS! DOWN HERE IN THE CBOX SEAAAA~ E IS EATING ALL OF THE SHANEWICHES! L IS FOR LICKING SHANEEEE! A IS FOR A SHANE SHRINE CONTAINING RNA DOWN HERE IN THE CBOX SEAAAA





Emilie Friend-ily



[20:38:18] Emilie Nouveau : OTHERS ARE GREAT FOR KISSING AND SNUGGLES BUT PUT WITH SHANE AND ILL BE A......
[20:38:22] Emilie Nouveau : HAPPY KLIEN!
[21:07:37] Emilie Nouveau : I can kidnap the shane. Hide him in my closet. Tell me Esther now when did you last let your heart decide? Fine. We can kidnap the Shane, but let's just hide him in my dorm room. Nobody will ever suspect that we brought him there. LET'S KIDNAP SHANE. AND HE'LL HIDE IN THE DORM ROOM! BUT I'D TAKE HIM ANYWHERE, THERE'S NO SHANE TO SPARE, SO I HARDLY WNT TO SHARE MY SHANE WITH YOU